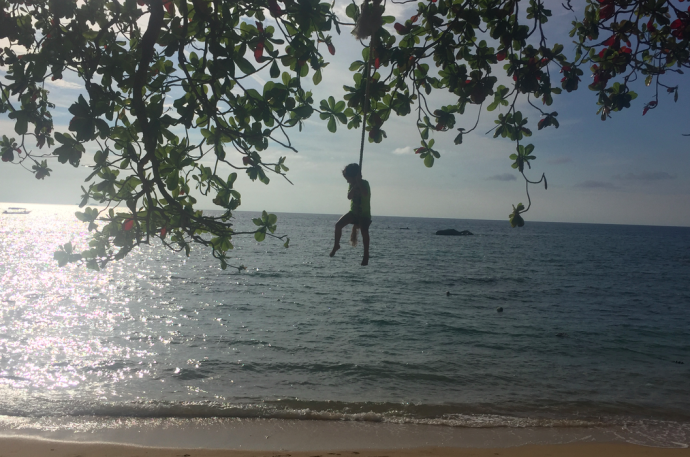 The island of Tioman, Malaysia. Island number 15 (out of 100), country number 12 (out of 25), month number 15 (out of 100.)
This is a post about trying to see humans as humans.
You reach Tioman island via a one hour ferry ride off the East cost of southern Malaysia.
We arrived at the rustic but charming resort for a few days of swimming with stingrays, swinging in the tree-swing and playing in the sand.
While there I got chat with a woman who worked in the spa, a woman who's story inspired me to this post.
The woman, let's call her Mrs Human, was from Indonesia but had left Indonesia for Malaysia at the early age of 16.
"I am a christian", Mrs Human explained.
A catholic woman from the Philippines, living in Malaysia, had taken it upon her to train Mrs Human how to be a masseuse and by doing that given her a job and a career so she could make her own living.
Mrs Human's life had turned out good, but it was clear the her the reason she had left home – and her home country – at such a young age was because she had decided to convert to another religion than her family – and that her family had pushed her away because of her decision.
Her faith had turned her family away from her.
I find it sad how differences in religions can push family apart.
On our way to Tioman island we had booked a car for our little group. (We had decided to go the whole family, including our two helpers so all in all we were 10 people with my mother and my wifes sister and her son joining us for the trip.)
When the driver came to pick us up it turned out that our 10 seater van only had nine seat-belts, the seat that one of our helpers was sitting in did not have a functional seat belt. When we pointed this out the drivers respons was: "Just let the helper ride without the seatbelt."
As if a helper was less of a human than the rest of us, as if a helper did not need to wear a seat-belt.
As we were late for the ferry we had to get into the car and ride with just nine seatbelt, but we made sure that the van which would come and pick us up for the return trip with have seatbelt for everyone. (and it did).
To have to point out that a helper should also be expected to get a seatbelt when you rent a van made me uncomfortable.
The fact that people can make a decision like who should and should not wear a seatbelt based on their occupation makes me sad.
These two stories from Tioman island are, for me, two different examples of how we as humans for some reason are not able to look at humanity without looking down on some. It might be a human behaviour to want to do that, but it's a sad human behaviour and I am absolutely convinced that it's a human behaviour that we can train ourselves to be less and less affected by by making a deliberate decision to try not to judge people based on their religion, their job title, their skin color etc – but by their character and their actions.
We are, after all, just 7.5 billion people clinging on to a small, little, tiny speck of an "island" called Earth. We might as well try to work together as best we can while we are here.
Fredrik Haren, aka "The Island Man", plans to visit 100 islands, in at least 25 countries, on at least 6 continents – in less than 100 months. The purpose of this "World Tour of Islands" is to get a better understanding of the world, a deeper understanding of the people who live here and a broader understanding of life. The island of Tioman was island number 15, country number 12 and month number 15. (Countries visited so far: China, Sweden, Maldives, Austria, Nigeria, Vietnam, Egypt, Indonesia, USA, Malaysia, Thailand, and Hong Kong.)